Current Affairs for SSC CGL Exams -01 August 2022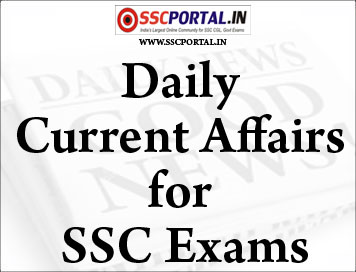 Presently you have decided to progress toward becoming SSC official and searching for the books and study materials to accomplish your objective. All things consider, you are on the correct place. Presently We are Sharing With You
Current Affairs for SSC CGL Exams -01 August 2022.
This article which is based on
Current Affairs for SSC CGL Exams -01 August 2022.
, a part of our most viewed notes on
www.sscpdfhub.com
, which we think our readers not supposed to miss. Readers may download the each of the notes as PDF free of cost just click on Download button. Check out latest study materials at our Website SSCPDFHUB on daily basis also you can enter your email to subscribe our website to get notification of new posts by E-mail.
Read This Also:
Read This Also:
Read This Also:

Current Affairs for SSC CGL Exams -01 August 2022.
helps in improving your knowledge and automatically improves your marks in competitive examinations.
UPSC, IAS, IPS, IFS, PCS, UPPSC, SSC CGL, BANK, RAILWAYS, RRB NTPC, LIC AAO, Patwari, TET, BED, etc. Examinations are going to start after a few months. In these examinations, many questions are coming from different study materials provided at our website www.sscpdfhub.com. So, therefore,
Current Affairs for SSC CGL Exams -01 August 2022.
is a important subject in all these examinations. We will provide you the PDF books and notes at our Website which include
Current Affairs for SSC CGL Exams -01 August 2022.
. Which is helpful for all those aspirants who preparing for all these examinations at various level. Previous years questions are placed in Syllogism Questions, which has been put together in most examinations; you can download these PDF Notes simply by clicking on the Download Button at the bottom.
This post is dedicated to all the needy aspirants who want to download our SSCPDF materials, which is based on the latest exam pattern like SSC CGL, BANK, RAILWAYS, RRB NTPC, LIC AAO, etc.
Current Affairs for SSC CGL Exams -01 August 2022.
in English helps in improving your knowledge and automatically improves your marks in competitive examinations.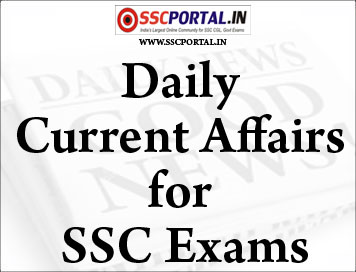 Current Affairs for SSC CGL Exams – 01 August 2022
::NATIONAL::
IISc signs MoU with Indian Navy for collaborative research
The Indian Institute of Science (IISc) and the Indian Navy have signed anMoU to collaborate on aviation research and development, and to ramp up self-reliance efforts for the Navy in line with the goals of 'Atmanirbhar Bharat'.
The MoU, signed on July 29, provides a formal basis for the Navy to interact with relevant faculty members at IISc and will promote joint research programmes in areas of mutual interest, Bengaluru-based IISc said in a statement.
The areas of collaboration under the MoU will fall under the domain of aerospace/aeronautical engineering, including design and education technology. Specialisations that will be under focus include propulsion and propulsion systems, steel technology, metallurgy and material sciences, and corrosion science; systems and controls, instrumentation and sensors; environmental science and engineering, energy science and engineering; management (technical and logistics), industrial engineering and operational research, nanotechnology and MEMS (micro electro mechanical systems), artificial Intelligence, data analytics, and machine learning.
The MoU was signed by Captain Sridhar Warrier, registrar, IISc and Captain P Vinayagam, Capt (APP), Indian Navy, in the presence of senior members of the Navy including Rear Admiral Deepak Bansal, VSM, ACNS (Air Materiel), and Commodore Raja Vinod, Commodore Superintendent, NAY (Goa), apart from other senior officers from the Indian Navy. Also present at the occasion were Chairs of several departments in the Division of Mechanical Sciences, and the Office of Research Grants at IISc.
"It is a privilege for us to collaborate with the Indian Navy in these important areas of mutual interest. We look forward to the many exciting research and development outcomes that will emerge from this partnership," CaptWarrier was quoted as saying.
::INTERNATIONAL::
Rishi Sunak, trailing in UK PM race, vows 20% cut to income tax in 7 years
Rishi Sunak, trailing in the race to become the next UK prime minister, committed to reducing personal taxes by 20% within seven years in a move he described as the largest cut to income tax in three decades. The announcement comes at a critical juncture in the race to succeed Boris Johnson.
The 175,000 Conservative grassroots members receive their postal ballots to elect Sunak or Liz Truss as the party's next leader and prime minister. They're both anxious to secure support before the summer vacation starts in earnest, with the winner announced Sept. 5.
Sunak said he would cut the basic rate from 20p in the pound to 16p — amounting to a 20% tax reduction and drawing accusations from Truss's camp of "flip flops and u-turns" on the issue. When he was chancellor of the exchequer, Sunak announced a one-penny cut to income tax in April 2024. A further 3p reduction would come by the end of the next Parliament, as late as December 2029.
"It is a radical vision but it is also a realistic one and there are some core principles that I'm simply not prepared to compromise on, whatever the prize," Sunak said in a statement. "Firstly I will never get taxes down in a way that just puts inflation up. Secondly I will never make promises I can't pay for. And thirdly I will always be honest about the challenges we face."
But the Truss campaign appears to be in the ascendancy, with polls of party members putting her clearly ahead. The endorsement of senior Conservatives over the weekend only added to the sense of her pushing ahead. Former leadership candidate, the centrist Tom Tugendhat, endorsed her on Saturday saying her proposed cuts were based on "true Conservative principles."
::ECONOMY::
Global PE investors Advent, Carlyle to invest Rs 8,900 cr in YES Bank
Private lender YES Bank on Friday announced raising equity capital worth $1.1 billion (Rs 8,900 crore) through funds affiliated to global private equity investors Carlyle and Advent International. Each investor will potentially acquire up to 10 per cent, YES Bank said in a filing.
"This will be raised through a combination of $640 million (Rs 5,100 crore) in equity shares and $475 million (Rs 3,800 crore) through equity share warrants," YES Bank said.
On Friday, YES Bank shares closed at Rs 14.94, up 2.47 per cent from its previous close on the BSE.
"The capital raise will further bolster the capital adequacy of YES Bank and aid the bank's medium- to long-term sustainable growth objectives. Once approved, this would be one of the largest private capital raises by an Indian private sector bank," it said.
The fund-raising plan is subject to shareholder approval at the extraordinary general meeting, to be held on August 24.
"We are extremely pleased to on-board such pedigreed investors like Carlyle and Advent International as our partners, in fulfilling the long-term strategy of the bank. This is a testimony to the inherent strength of the bank's franchise," said Prashant Kumar, managing director and chief executive officer.
::SCIENCE AND TECH::
Distant dwarf galaxy formation spotted, Assam researcher in global research team
A first of its kind study has found new stars forming beyond the visible boundaries about 1.5 to 3.9 billion light years away from the Earth, according to an article by a research scholar of Tezpur University in Assam. AnshumanBorgohain, the research scholar was a member of the team of astronomers from India, the USA and France which conducted the study. He is the lead author of the article.
"It is still unclear how dwarf galaxies of the past have evolved into the ones in the present day. Hence, capturing their assembly process over the cosmic ages is considered as one of the important links to complete the picture of galaxy formation and evolution," said the research article which was published in the multidisciplinary science journal 'Nature' this month.
Bruce Elmegreen, a principal research staff in USA's IBM research division who too was involved in the study, said that it has been a mystery how some small galaxies like these can have such active star formation. The study was conceived using the ultra violet imaging telescope (UVIT) onboard AstroSat, India's first dedicated multi-wavelength space observatory, a release issued by Tezpur University said.
The AstroSat/UVIT's imaging capabilities have opened up promising avenues in the field of extragalactic astronomy, it added. Borgohain works under the joint supervision of RupjyotiGogoi of Tezpur University and Prof KanakSaha of Pune-based Inter University Centre for Astronomy and Astrophysics who are co-authors of the article.
The resolving power of the ultra violet imaging telescope onboard AstroSat, India's first dedicated multi-wavelength space observatory and UV deep field imaging techniques have been the key to spotting these very young, faint and large star forming clumps, Saha said.
The current work is an inspiration for young researchers of the country as this utilizes data from India's indigenous satellite AstroSat, Gogoi said.
"The discovery of such unseen phenomena in these distant dwarf galaxies is just another piece of the puzzle and a glimpse of the unknown that new state of the art observatories are starting to show and have to offer in near future,' the university vice-chancellor Vinod K Jain said.
::Sports::
Amid plaudits for golden boy AchintaSheuli
As celebrations and plaudits came AchintaSheuli's way for winning the country's the third gold in the ongoing Commonwealth Games, his brother said nobody even knew until now that a boy from a village in Bengal was taking part in the global sports contest. He said the state's sports minister also seemed ignorant, adding government support was needed for budding sportspersons to flourish.
Sheuli clinched the gold in the men's 73 kg final at the CWG 2022 being held in Birmingham. Soon after, tweets of praise poured from across the country for the young athlete who is a havildar in the Indian Army.
His brother Alok, however, said they are yet to see how much funds Achinta receives for his feat. "In 2020, the state government gave an award, nobody knows that a boy from our village participated in CWG. Even the state's sports minister seems ignorant, we need government support. We are yet to see how much money will they give for it," AlokSheuli was quoted as saying by news agency ANI.
Download Monthly General Awareness PDF
Download SSC EXAMS EBOOK PDF
PRINTED Study Notes for SSC CGL Exam
Click Here for Daily Current Affairs Archive
Please let us know,
through your comments
, which PDF Notes you want. We will try our level best to provide you that study material for your preparation not for commercial use. If You want to share Your Study Material with Other Aspirants Please send Us at
sscpdfhub@gmail.com
Please share this post with the needy aspirants.
All SSCPDF Notes are available on this website for Educational purpose only. Not for commercial use.
Disclaimer
sscpdfhub.com does not own these SSCPDF books, neither created nor scanned. We only provide you the links that are already available on Internet. If anyhow, it violates the law or has anyone issue with that. Then please contact us at sscpdfhub@gmail.com For removal of links.
Contact Us in case of Copyright for Immediate Removal