Current Affairs for SSC CGL Exams – 02 September 2022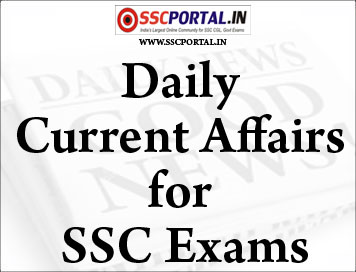 Presently you have decided to progress toward becoming SSC official and searching for the books and study materials to accomplish your objective. All things consider, you are on the correct place. Presently We are Sharing With You
Current Affairs for SSC CGL Exams - 02 September 2022.
This article which is based on
Current Affairs for SSC CGL Exams - 02 September 2022.
, a part of our most viewed notes on
www.sscpdfhub.com
, which we think our readers not supposed to miss. Readers may download the each of the notes as PDF free of cost just click on Download button. Check out latest study materials at our Website SSCPDFHUB on daily basis also you can enter your email to subscribe our website to get notification of new posts by E-mail.
Read This Also:
Read This Also:
Read This Also:

Current Affairs for SSC CGL Exams - 02 September 2022.
helps in improving your knowledge and automatically improves your marks in competitive examinations.
UPSC, IAS, IPS, IFS, PCS, UPPSC, SSC CGL, BANK, RAILWAYS, RRB NTPC, LIC AAO, Patwari, TET, BED, etc. Examinations are going to start after a few months. In these examinations, many questions are coming from different study materials provided at our website www.sscpdfhub.com. So, therefore,
Current Affairs for SSC CGL Exams - 02 September 2022.
is a important subject in all these examinations. We will provide you the PDF books and notes at our Website which include
Current Affairs for SSC CGL Exams - 02 September 2022.
. Which is helpful for all those aspirants who preparing for all these examinations at various level. Previous years questions are placed in Syllogism Questions, which has been put together in most examinations; you can download these PDF Notes simply by clicking on the Download Button at the bottom.
This post is dedicated to all the needy aspirants who want to download our SSCPDF materials, which is based on the latest exam pattern like SSC CGL, BANK, RAILWAYS, RRB NTPC, LIC AAO, etc.
Current Affairs for SSC CGL Exams - 02 September 2022.
in English helps in improving your knowledge and automatically improves your marks in competitive examinations.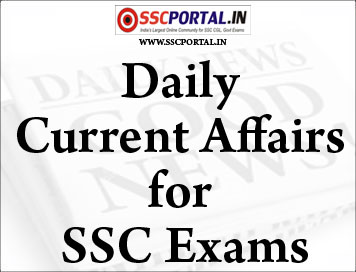 Current Affairs for SSC CGL Exams – 02 September 2022
::NATIONAL::
'Purely in executive domain': SC on rehabilitation of Kashmiri Pandits
The issues relating to rehabilitation of Kashmiri Pandits and Sikhs in Jammu and Kashmir following their exodus in 1990s is "purely in the domain of the executive", observed the Supreme Court on Friday, as it asked an NGO petitioner to first approach the union government and the union territory administration with its cluster of pleas, which included a probe into the "ethnic cleansing".
'It's purely in the domain of the executive. You approach the government. Why should we interfere?" a bench of justices BR Gavai and CT Ravikumar asked the counsel for NGO 'We The Citizens', while refusing to wade into the matter at first instance.
It asked the NGO's lawyer BarunSinha whether the petitioner has approached the competent authorities, to which Sinha replied in negative.
The lawyer also agreed to approach the Centre and UT administration.
The bench then proceeded to record in its order that the petitioner has chosen to withdraw the petition and is thus given the liberty to file representations before appropriate authorities.
The petition sought a probe by a Special Investigation Team (SIT) into the targeted killings of Kashmiri Pandits and Sikhs in Jammu and Kashmir between 1990 and 2003, which forced their exodus from the valley. It further prayed for conducting a census of Hindus and Sikhs who were compelled to migrate out of the valley and rehabilitate them again.
The police and other state machinery, the petition claimed, were so influenced at the relevant time by the leadership of the ruling political parties that no legal action was taken against the perpetrators and masterminds of the religious killings and exodus.
"The Government and State machinery failed to act to protect the life of Hindus and Sikhs and allowed anti-nationals, terrorists and anti-social elements to take control of the whole of Kashmir", the petition contended, adding a large number of first information reports (FIRs) registered at that time were never taken to their logical conclusion even as it has been over 30 years since the "ethnic cleansing",
The plea also seeks a direction to declare as null and void the sale of properties, including religious, residential, agricultural, commercial, institutional, educational post exodus in January 1990.
In July 2017, the Supreme Court had turned down a separate plea for an investigation into the "mass murders and genocide of Kashmiri Pandits during 1989-90 and subsequent years" and the "reasons for non-prosecution of FIRs" of the incidents.
::INTERNATIONAL::
China must be held accountable for its actions in Xinjiang: Canada
The Canadian government wants China to be held to account for its actions in the province of Xinjiang after a damning report from the office of the United Nations High Commissioner for Human Rights.
"The release of this much-anticipated report was critical. The findings reflect the credible accounts of grave human rights violations taking place in Xinjiang. This report makes an important contribution to the mounting evidence of serious, systemic human rights abuses and violations occurring in Xinjiang," Canada's Minister of Foreign Affairs MélanieJoly said, in a statement released on Thursday.
That report found that "serious human rights violations have been committed" in Xinjiang "in the context of the Government's application of counter-terrorism and counter-'extremism' strategies".
"It finds that the arbitrary and discriminatory detention of Uighurs and other Muslim ethnic minorities may constitute international crimes, in particular crimes against humanity," Joly noted.
"Mounting evidence points to systemic, state-led human rights violations by Chinese authorities, including the mass arbitrary detention of more than 1 million Uighurs and members of other Muslim ethnic minorities on the basis of their religion and ethnicity, as well as widespread mass surveillance, political re-education, sexual and gender-based violence, forced labour, torture and forced sterilisation," she asserted.
Joly said Ottawa will continue to work with its international partners on "coordinated action to address the situation in Xinjiang and to ensure the Chinese government is held to account for its actions".
She added, "Canada has repeatedly expressed its grave concern with the ongoing gross and systemic human rights violations occurring in Xinjiang affecting Uighurs and other Muslim ethnic minorities."
China has already denied the findings in the UN report.
In February last year, Canada's House of Commons had passed a motion that Chinese actions in Xinjiang met the threshold to be termed as "genocide".
::ECONOMY::
RBI unlikely to accept NBFCs' requests for bad-loan exemptions: Report
India's central bank is unlikely to give "shadow banks" exemptions from stricter bad-loan rules coming into force, sources told Reuters, essentially ending an advantage the non-bank financial firms have had over standard banks.
Non-banking financial companies (NBFCs) have asked the Reserve Bank of India to exempt smaller loans from the rules taking effect next month that are in line with those covering banks.
India had 10,000 shadow banks as of March 2021, the latest RBI data available, with assets of Rs 54 trillion ($680 billion) or about one-fourth that of the banking sector. Several of the biggest shadow banks are listed on the stock exchanges.
Under the new norms, shadow banks will have to recognise bad loans on a daily basis, rather than monthly, as some now do. Non-performing loans can only be upgraded to performing after borrowers have paid all arrears.
"We have been meeting the RBI regularly and have asked for several relaxations, which they have denied," said an industry source who has attended these meetings with the central bank.
The central bank did not immediately respond to a request seeking comment.
Shadow banks wanted loans of up to Rs 2 crore ($250,000) to be exempt, according to a document reviewed by Reuters, and also asked for some accounting requirements to be relaxed and for an extension to comply with the new rules.
"We expect that with the new regulations NBFCs across the board are likely to see an increase of 80-100 basis-point in bad loans," said the chief of one shadow bank, who asked not to be named. "Some firms may see an even up to a 200 basis-point increase."
That could be boost some institutions' bad loans high enough to subject them to additional regulatory requirements and force them to set aside more cash to provision against non-performing loans, industry executives say.
Shadow banks had also asked the RBI to lower the threshold on bad loans for which they would not need court approval to take control of securities pledged against the loan, manage or sell them to recover dues.
::Science and tech::
James Webb Telescope captures its first image of planet beyond our solar system
Using the powerful optics system of the James Webb Space Telescope (JWST), scientists have been able to take direct pictures of a planet beyond our solar system. The new image of exoplanet HIP 65426 recently released by National Aeronautics and Space Administration (NASA) is Webb's first picture of an exoplanet, which shows the immense prowess of JWST to explore the unseen universe.
The exoplanet 'HIP 65426 b' is younger but bigger than Earth. It is about 6 to 12 times the mass of Jupiter and about 15 to 20 million years old, Earth is 4.5-billion-year-old. NASA says that these observations could help to determine the size and age of the planet much more precisely. Webb telescope has pictured this gas giant through four different light filters.
"This is a transformative moment, not only for Webb but also for astronomy generally," said Sasha Hinkley, an associate professor who led these observations with a large international collaboration.
NASA's Kepler Space Telescope has shown that the galaxy has more numbers of planets than stars. The elements of these planets are similar to the planets of our solar system, although they do not necessarily revolve around any stars, as there are some exoplanets which are free floating and orbit around the galactic centre.
Astronomers observe the wobble of stars caused by the planets orbiting it. This wobble gives a clue of the presence of planets. The wobble can be observed by the Doppler shift method – a change in the colour of light that is coming from a star, and also by astrometry method.
::Sports::
HS Prannoy loses in Japan Open quarterfinals after valiant effort
H S Prannoy went down fighting in the men's singles quarterfinals against world championships bronze medallist Chou Tien Chen of Chinese Taipei, bringing down the curtains on India's campaign at the Japan Open.
The 30-year-old Indian played out of his skin and saved three match points, only to endure the agony of losing it in the end, as Chou emerged victorious 21-17 15-21 22-20 in a pulsating contest that lasted an hour and 20 minutes.
One of the most consistent Indian players in the circuit this season, Prannoy recovered well from an opening game reversal, and kept breathing down his opponent's neck till the last point but, in the end, Chou's perseverance saw him through in this match at the Super 750 tournament.
Coming into the match after his twin wins against Chou in the last two meetings, Prannoy engaged in a battle of attrition with his rival, and was up 12-8 in the opening game.
Download Monthly General Awareness PDF
Download SSC EXAMS EBOOK PDF
PRINTED Study Notes for SSC CGL Exam
Click Here for Daily Current Affairs Archive
Please let us know,
through your comments
, which PDF Notes you want. We will try our level best to provide you that study material for your preparation not for commercial use. If You want to share Your Study Material with Other Aspirants Please send Us at
sscpdfhub@gmail.com
Please share this post with the needy aspirants.
All SSCPDF Notes are available on this website for Educational purpose only. Not for commercial use.
Disclaimer
sscpdfhub.com does not own these SSCPDF books, neither created nor scanned. We only provide you the links that are already available on Internet. If anyhow, it violates the law or has anyone issue with that. Then please contact us at sscpdfhub@gmail.com For removal of links.
Contact Us in case of Copyright for Immediate Removal