Current Affairs for SSC CGL Exams -03 August 2022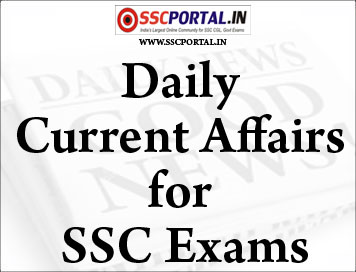 Presently you have decided to progress toward becoming SSC official and searching for the books and study materials to accomplish your objective. All things consider, you are on the correct place. Presently We are Sharing With You
Current Affairs for SSC CGL Exams -03 August 2022.
This article which is based on
Current Affairs for SSC CGL Exams -03 August 2022.
, a part of our most viewed notes on
www.sscpdfhub.com
, which we think our readers not supposed to miss. Readers may download the each of the notes as PDF free of cost just click on Download button. Check out latest study materials at our Website SSCPDFHUB on daily basis also you can enter your email to subscribe our website to get notification of new posts by E-mail.
Read This Also:
Read This Also:
Read This Also:

Current Affairs for SSC CGL Exams -03 August 2022.
helps in improving your knowledge and automatically improves your marks in competitive examinations.
UPSC, IAS, IPS, IFS, PCS, UPPSC, SSC CGL, BANK, RAILWAYS, RRB NTPC, LIC AAO, Patwari, TET, BED, etc. Examinations are going to start after a few months. In these examinations, many questions are coming from different study materials provided at our website www.sscpdfhub.com. So, therefore,
Current Affairs for SSC CGL Exams -03 August 2022.
is a important subject in all these examinations. We will provide you the PDF books and notes at our Website which include
Current Affairs for SSC CGL Exams -03 August 2022.
. Which is helpful for all those aspirants who preparing for all these examinations at various level. Previous years questions are placed in Syllogism Questions, which has been put together in most examinations; you can download these PDF Notes simply by clicking on the Download Button at the bottom.
This post is dedicated to all the needy aspirants who want to download our SSCPDF materials, which is based on the latest exam pattern like SSC CGL, BANK, RAILWAYS, RRB NTPC, LIC AAO, etc.
Current Affairs for SSC CGL Exams -03 August 2022.
in English helps in improving your knowledge and automatically improves your marks in competitive examinations.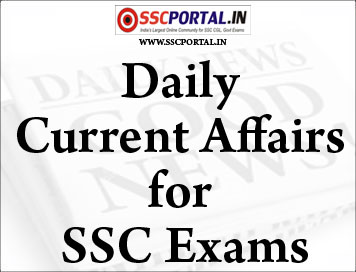 Current Affairs for SSC CGL Exams – 03 August 2022
::NATIONAL::
Lok Sabha passed the Wildlife (Protection) Amendment Bill, 2021 to increase the species protected under the Wildlife (Protection) Act, 1972
The Wild Life (Protection) Amendment Bill, 2021 was introduced in Lok Sabha by the Minister of Environment, Forest and Climate Change on December 17, 2021.  The Bill amends the Wild Life (Protection) Act, 1972.  The Act regulates the protection of wild animals, birds and plants.  The Bill seeks to increase the species protected under the law, and implement the Convention on International Trade in Endangered Species of Wild Fauna and Flora (CITES).  
Key features of the Bill include:
CITES:  CITES is an international agreement between governments to ensure that international trade in specimens of wild animals and plants does not threaten the survival of the species.  Under CITES, plant and animal specimens are classified into three categories (Appendices) based on the threat to their extinction.  The Convention requires countries to regulate the trade of all listed specimens through permits.  It also seeks to regulate the possession of live animal specimens.  The Bill seeks to implement these provisions of CITES.  
Rationalising schedules: Currently, the Act has six schedules for specially protected plants (one), specially protected animals (four), and vermin species (one).  Vermin refers to small animals that carry disease and destroy food.  The Bill reduces the total number of schedules to four by: (i) reducing the number of schedules for specially protected animals to two (one for greater protection level), (ii) removes the schedule for vermin species, and (iii) inserts a new schedule for specimens listed in the Appendices under CITES (scheduled specimens).
Obligations under CITES:   The Bill provides for the central government to designate a: (i) Management Authority, which grants export or import permits for trade of specimens, and (iii) Scientific Authority, which gives advice on aspects related to impact on the survival of the specimens being traded.  Every person engaging in trade of a scheduled specimen must report the details of the transaction to the Management Authority.  As per CITES, the Management Authority may use an identification mark for a specimen.  The Bill prohibits any person from modifying or removing the identification mark of the specimen.  Additionally, every person possessing live specimens of scheduled animals must obtain a registration certificate from the Management Authority.
Invasive alien species: The Bills empowers the central government to regulate or prohibit the import, trade, possession or proliferation of invasive alien species.  Invasive alien species refers to plant or animal species which are not native to India and whose introduction may adversely impact wild life or its habitat.  The central government may authorise an officer to seize and dispose the invasive species. 
Control of sanctuaries: The Act entrusts the Chief Wild Life Warden to control, manage and maintain all sanctuaries in a state.  The Chief Wild Life Warden is appointed by the state government.  The Bill specifies that actions of the Chief Warden must be in accordance with the management plans for the sanctuary.  These plans will be prepared as per guidelines of the central government, and as approved by the Chief Warden.  For sanctuaries falling under special areas, the management plan must be prepared after due consultation with the concerned Gram Sabha.  Special areas include a Scheduled Area or areas where the Scheduled Tribes and Other Traditional Forest Dwellers (Recognition of Forest Rights) Act, 2006 is applicable.  Scheduled Areas are economically backward areas with a predominantly tribal population, notified under the Fifth Schedule to the Constitution.
Conservation reserves: Under the Act, state governments may declare areas adjacent to national parks and sanctuaries as a conservation reserve, for protecting flora and fauna, and their habitat.  The Bill empowers the central government to also notify a conservation reserve.
Surrender of captive animals: The Bill provides for any person to voluntarily surrender any captive animals or animal products to the Chief Wild Life Warden.  No compensation will be paid to the person for surrendering such items.  The surrendered items become property of the state government.  
Penalties: The Act prescribes imprisonment terms and fines for violating the provisions of the Act.  The Bill increases these fines.
Type of Violation                           1972 Act                        2021 Bill
General violation                      Up to Rs 25,000             Up to Rs 1,00,000
Specially protected animals      At least Rs 10,000      At least Rs 25,000
::INTERNATIONAL::
Taiwan: US House of Representatives Speaker Nancy Pelosi arrives in Taipei
United States House Speaker Nancy Pelosi landed in Taiwan on Tuesday evening, a visit which might significantly escalate tensions between the US and China. Visuals shared by news agency Reuters showed Pelosi landing at the Songshan Airport in Taipei. According to the local media, Pelosi was welcomed into Taiwan by the country's foreign minister Joseph Wu.
Taking to Twitter, Pelosi said, "Our delegation's visit to Taiwan honors America's unwavering commitment to supporting Taiwan's vibrant Democracy."
"Our discussions with Taiwan leadership reaffirm our support for our partner & promote our shared interests, including advancing a free & open Indo-Pacific region," she said.
Our visit is one of several Congressional delegations to Taiwan – and it in no way contradicts long standing United States policy, guided by the Taiwan Relations Act of 1979, US-China Joint Communiques and the Six Assurances," the US House speaker further tweeted.
Pelosi will visit the Taiwanese Parliament on Wednesday morning, have lunch with President Tsai Ing-wen and will also meet democracy activists, the local media further said.
She is the highest-ranking American official to visit Taiwan in 25 years. The last such visit to the Island nation was made by then-House Speaker Newt Gingrich in 1997.
Earlier on Tuesday, the Chinese government warned that the United States will have to pay the price if Pelosi visited Taiwan. "The US side will bear the responsibility and pay the price for undermining China's sovereign security interests," foreign ministry spokesperson HuaChunying told reporters in Beijing.
China's warning has fuelled speculations of a threat of military exercises and possible incursions by Chinese planes and ships into areas that are under Taiwan's control.
Ahead of Pelosi's visit, Taiwan's presidential office website came under cyber attack and was at one point malfunctioning. However, the services were restored shortly.
::ECONOMY::
Tata Group-owned Air India to raise the retirement age of pilots from 58 to 65
To ensure an adequate number of pilots for its expanding fleet size, Tata Group-owned Air India (AI) has decided to raise its retirement age from 58 to 65. Considering future expansion plans for our fleet, it is imperative to meet our workforce requirement for pilots. DGCA (Directorate General of Civil Aviation) allows pilots to fly till the age of 65 years, compared to Air India's retirement age of 58 years. Allowing pilots to fly till the age of 65 is a practice followed by most airlines in the industry, said the airline's internal document issued on July 29.
"To meet our requirement, it is proposed to retain our current trained pilots at Air India post-retirement on a contractual basis for 5 years extendable to 65 years," said S.D. Tripathi, AI's chief human resource officer (CHRO) in the document.
According to AI's new policy, a panel comprising functional representatives of HR and operations & flight safety will be constituted to examine the eligibility of pilots retiring in the next two years. The panel will be responsible for reviewing the past records of the pilots with respect to discipline, flight safety and vigilance. Post the review, the committee will recommend shortlisted names to the CHRO for issuing them post-retirement contract.
As per the airline's policy, post-retirement contract will include a clause for annual review of the contract basis performance, conduct and flight safety record. On completion of five years of satisfactory service, a comprehensive examination of their performance will be considered for further extension till 65 years. This will be reviewed by the constituted committee, said the document.
::Sports::
India Table Tennis men's team wins gold at Commonwealth Games 2022, beats Singapore in final
India's paddlers retained their men's team championship title with a convincing 3-1 win over Singapore in the Commonwealth Games (CWG) in Birmingham.
Despite Sharath Kamal's shock loss to southpaw Clarence Chew, Harmeet Desai fought back for India with a stunning show against Chew to seal the deal in his team's favour.
The final was a repeat of the group stage affair between the two CWG table tennis powerhouses. With India having trumped Singapore 3-0, Singapore changed its combination.
The reliable doubles combination of Harmeet and G. Sathiyan got India off to an ideal start, with a 3-0 win in the lone doubles rubber against Koen Pang and IzaacQuek. While Sathiyan was solid with his forehand top-spins, Harmeet stole the show with his backhand blocks to give India the lead.
Instead of Pang, Singapore head coachGaoNing pitted Clarence against Sharath. And the move worked wonders as the southpaw caught Sharath off guard in the duo's first meeting in eight years. Clarence used his angles effectively to race to a win in four games.
Download Monthly General Awareness PDF
Download SSC EXAMS EBOOK PDF
PRINTED Study Notes for SSC CGL Exam
Click Here for Daily Current Affairs Archive
Please let us know,
through your comments
, which PDF Notes you want. We will try our level best to provide you that study material for your preparation not for commercial use. If You want to share Your Study Material with Other Aspirants Please send Us at
sscpdfhub@gmail.com
Please share this post with the needy aspirants.
All SSCPDF Notes are available on this website for Educational purpose only. Not for commercial use.
Disclaimer
sscpdfhub.com does not own these SSCPDF books, neither created nor scanned. We only provide you the links that are already available on Internet. If anyhow, it violates the law or has anyone issue with that. Then please contact us at sscpdfhub@gmail.com For removal of links.
Contact Us in case of Copyright for Immediate Removal