Current Affairs for SSC CGL Exams – 03 July 2022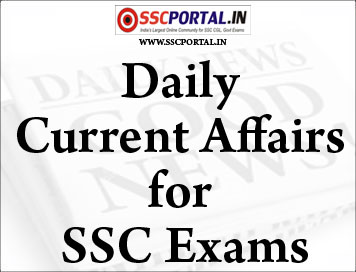 Presently you have decided to progress toward becoming SSC official and searching for the books and study materials to accomplish your objective. All things consider, you are on the correct place. Presently We are Sharing With You
Current Affairs for SSC CGL Exams - 03 July 2022.
This article which is based on
Current Affairs for SSC CGL Exams - 03 July 2022.
, a part of our most viewed notes on
www.sscpdfhub.com
, which we think our readers not supposed to miss. Readers may download the each of the notes as PDF free of cost just click on Download button. Check out latest study materials at our Website SSCPDFHUB on daily basis also you can enter your email to subscribe our website to get notification of new posts by E-mail.
Read This Also:
Read This Also:
Read This Also:

Current Affairs for SSC CGL Exams - 03 July 2022.
helps in improving your knowledge and automatically improves your marks in competitive examinations.
UPSC, IAS, IPS, IFS, PCS, UPPSC, SSC CGL, BANK, RAILWAYS, RRB NTPC, LIC AAO, Patwari, TET, BED, etc. Examinations are going to start after a few months. In these examinations, many questions are coming from different study materials provided at our website www.sscpdfhub.com. So, therefore,
Current Affairs for SSC CGL Exams - 03 July 2022.
is a important subject in all these examinations. We will provide you the PDF books and notes at our Website which include
Current Affairs for SSC CGL Exams - 03 July 2022.
. Which is helpful for all those aspirants who preparing for all these examinations at various level. Previous years questions are placed in Syllogism Questions, which has been put together in most examinations; you can download these PDF Notes simply by clicking on the Download Button at the bottom.
This post is dedicated to all the needy aspirants who want to download our SSCPDF materials, which is based on the latest exam pattern like SSC CGL, BANK, RAILWAYS, RRB NTPC, LIC AAO, etc.
Current Affairs for SSC CGL Exams - 03 July 2022.
in English helps in improving your knowledge and automatically improves your marks in competitive examinations.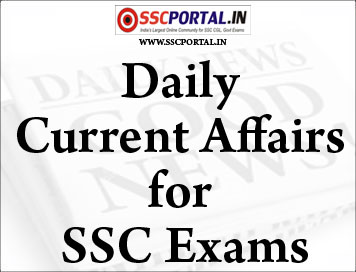 Current Affairs for SSC CGL Exams – 03 July 2022
::NATIONAL::
Outreach towards marginalised shouldn't be limited to just Hindus: PM Modi
The BharatiyaJanata Party (BJP)'s outreach towards marginalised communities should be expanded and not limited to just Hindus, Prime Minister NarendraModi has instructed party colleagues at the ongoing national executive committee meeting, functionaries aware of details said.
The party has benefitted electorally by giving political space to marginalised communities and through targeted interventions and policies focused on Dalits, scheduled tribes (STs) and the other backward classes.
Citing the BJP's recent electoral wins in Uttar Pradesh's Azamgarh and Rampur, where Muslims are present in large numbers, Modi is learnt to have said the party should examine how marginalised Muslim communities who have benefitted from the government's policies have lent support to the party.
The Prime Minister's comment was made during a presentation on the state by Uttar Pradesh BJP chief SwatantraDev Singh, according to a functionary. "He said the outreach towards the marginalised communities should not be limited to Hindus alone," the functionary said on condition of anonymity.
Even as political opponents have accused BJP of communal politics and consolidating the Hindu vote bank by wooing marginalised communities, the ruling party claims its pro-people policies are intended for all communities and faiths. It is now banking on marginalised sections among the minorities who have benefitted from social welfare schemes.
Modi's comments come close on the heels of a campaign initiated by a RashtriyaSwayamsevakSangh (RSS) affiliate to delist those STs who have converted to Islam and Christianity. The RSS is the ideological progenitor of the BJP.
::INTERNATIONAL::
Russia claims its forces captured last major Ukrainian-held city in Luhansk
Russia's defense minister says Moscow's forces have taken control of the last major Ukrainian-held city in Ukraine's Luhansk province.
Defense Minister Sergei Shoigu told President Vladimir Putin that "as a result of successful military operations, the armed forces of the Russian Federation, together with units of the People's Militia of the Luhansk People's Republic, have established full control over the city of Lysychansk," Russian news agencies reported.
Ukrainian fighters spent weeks trying to defend Lysychansk and to keep it from falling to Russia, as neighbouringSievierodonetsk did a week ago. A presidential adviser predicted late Saturday that the cities could be determined within days.
Ukrainian officials did not immediately provide an update on its status.
Earlier Sunday, Luhansk's governor said Russian forces were strengthening their positions in a grueling fight to capture the last stronghold of resistance in the province.
"The occupiers threw all their forces on Lysychansk. They attacked the city with incomprehensibly cruel tactics," Luhansk governor SerhiyHaidai said on the Telegram messaging app. "They suffer significant losses, but stubbornly advance. They are gaining a foothold in the city."
A river separates Lysychansk from Sievierodonetsk. OleksiyArestovych, an adviser to the Ukrainian president, said during an online interview late Saturday that Russian forces had managed for the first time to cross the river from the north, creating a "threatening" situation.
::ECONOMY::
Nirmala Sitharaman, GST in 5 years, oil & gas stocks, Web 5.0
In the summer of 2019, when NirmalaSitharaman took over as the country's finance minister, little did she know that she would have to steer the economy through one of its worst phases. One after another, three waves of Covid-19 ravaged the country over the next two years. And now, a war in Eastern Europe has set the commodity prices on the boil. 
The finance minister can be forgiven for thinking that she just cannot seem to catch a break. In a freewheeling interview with Business Standard, the FM spoke on an array of topics, including why she sees better days ahead, and why spend on capital assets may be a better bet than sector-specific fiscal steps.
In the interview, finance minister Sitharaman called her experience as the chairperson of GST Council humbling. After the initial teething troubles, Goods and Services Tax (GST) completed five years last week. Our next report offers a peek into the journey so far.
Revenue secretary Tarun Bajaj told Business Standard last week that recent tweaks in the GST regime might add Rs 15,000cr to government exchequer every year. Meanwhile, in another move to boost revenue, the government imposed windfall tax on gains made by domestic refiners. Index heavyweight RIL dropped over 7%, while other oil upstream and exploration-linked stocks slumped up to 15%. But should you buy these stocks on dips?
 ::Sports::
Carlos Sainz takes his first F1 win in Silverstone thriller
Ferrari's Carlos Sainz claimed his first Formula One victory in a thrilling British Grand Prix halted by a first-lap crash and with the added mayhem of a track invasion by environmental protesters.
Red Bull's Mexican Sergio Perez was runner-up, 3.779 seconds behind the Spaniard, with seven-times world champion Lewis Hamilton third for Mercedes in his home race and taking fastest lap for a bonus point.
"Yes! We did it! Vamos!" exclaimed a delighted Sainz over the radio after a win that had looked unlikely despite him starting on pole position for the first time and in his 150th race.
"I don't know what to say, it's amazing.
"First race win, 150 races later, with Ferrari in Silverstone. I cannot ask for more. It's a very special day, a day that I will never forget, a very special weekend in general."
Download Monthly General Awareness PDF
Download SSC EXAMS EBOOK PDF
PRINTED Study Notes for SSC CGL Exam
Click Here for Daily Current Affairs Archive
Please let us know,
through your comments
, which PDF Notes you want. We will try our level best to provide you that study material for your preparation not for commercial use. If You want to share Your Study Material with Other Aspirants Please send Us at
sscpdfhub@gmail.com
Please share this post with the needy aspirants.
All SSCPDF Notes are available on this website for Educational purpose only. Not for commercial use.
Disclaimer
sscpdfhub.com does not own these SSCPDF books, neither created nor scanned. We only provide you the links that are already available on Internet. If anyhow, it violates the law or has anyone issue with that. Then please contact us at sscpdfhub@gmail.com For removal of links.
Contact Us in case of Copyright for Immediate Removal