Current Affairs for SSC CGL Exams – 10 June 2022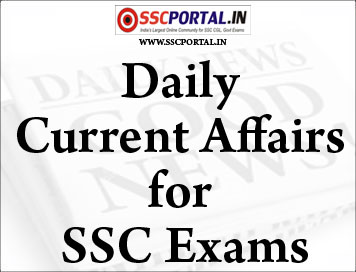 Presently you have decided to progress toward becoming SSC official and searching for the books and study materials to accomplish your objective. All things consider, you are on the correct place. Presently We are Sharing With You
Current Affairs for SSC CGL Exams - 10 June 2022.
This article which is based on
Current Affairs for SSC CGL Exams - 10 June 2022.
, a part of our most viewed notes on
www.sscpdfhub.com
, which we think our readers not supposed to miss. Readers may download the each of the notes as PDF free of cost just click on Download button. Check out latest study materials at our Website SSCPDFHUB on daily basis also you can enter your email to subscribe our website to get notification of new posts by E-mail.
Read This Also:
Read This Also:
Read This Also:

Current Affairs for SSC CGL Exams - 10 June 2022.
helps in improving your knowledge and automatically improves your marks in competitive examinations.
UPSC, IAS, IPS, IFS, PCS, UPPSC, SSC CGL, BANK, RAILWAYS, RRB NTPC, LIC AAO, Patwari, TET, BED, etc. Examinations are going to start after a few months. In these examinations, many questions are coming from different study materials provided at our website www.sscpdfhub.com. So, therefore,
Current Affairs for SSC CGL Exams - 10 June 2022.
is a important subject in all these examinations. We will provide you the PDF books and notes at our Website which include
Current Affairs for SSC CGL Exams - 10 June 2022.
. Which is helpful for all those aspirants who preparing for all these examinations at various level. Previous years questions are placed in Syllogism Questions, which has been put together in most examinations; you can download these PDF Notes simply by clicking on the Download Button at the bottom.
This post is dedicated to all the needy aspirants who want to download our SSCPDF materials, which is based on the latest exam pattern like SSC CGL, BANK, RAILWAYS, RRB NTPC, LIC AAO, etc.
Current Affairs for SSC CGL Exams - 10 June 2022.
in English helps in improving your knowledge and automatically improves your marks in competitive examinations.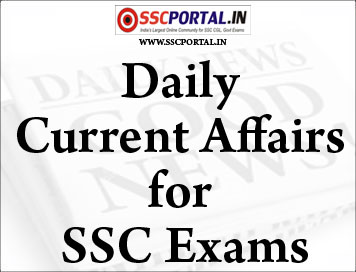 Current Affairs for SSC CGL Exams – 10 June 2022
::NATIONAL::
NHAI creates Guinness World Record by making 75 km long road in 105 hours
The National Highway Authority of India (NHAI) has set a Guinness World Record by completing the longest highway length of 75 kilometers (km) of bituminous concrete in a single lane between Amravati and Akola in the record time of—105 hours and 33 minutes. 
The 75 km of single-lane continuous bituminous concrete road is comparable to 37.5 km of two-lane paved shoulder road. Construction on the project began at 7:27 a.m. on June 3, 2022, and ended at 5 p.m. on June 7, 2022, lasting less than 5 days. A team of NHAI employees along with 720 workers from a private company, including independent consultants, worked day and night to complete the task in record time.
Earlier, the Guinness World Record for the longest continuously built bituminous was set in Doha, Qatar in February 2019 for constructing 25.275 km in ten days.
The Union Minister for Road Transport and Highways NitinGadkari announced the feat in a video address on Twitter. The minister commended all of the engineers, contractors, consultants, and employees from NHAI and Raj Path Infracon Pvt. Ltd. on the project's efficient execution, which contributed to the achievement of this world record.
The portion between Amrawati and Akola is part of NH 53, which links important cities like Kolkata, Raipur, Nagpur, and Surat. Union minister Gadkari further stated that once complete, this stretch will play a significant role in easing the movement of traffic and freight on this route.
::INTERNATIONAL::
European Parliament votes to ban the sale of new petrol and diesel cars by 2035 to fight climate change
The EU assembly voted in Strasbourg, France to require automakers to cut carbon-dioxide emissions by 100 percent by the middle of the next decade. The mandate would amount to a prohibition on the sale in the 27-nation bloc of new cars powered by gasoline or diesel.
EU lawmakers also endorsed a 55 percent reduction in CO2 from automobiles in 2030 compared with 2021. The move deepens an existing obligation on the car industry to lower CO2 discharges by 37.5 percent on average at the end of the decade compared to last year.
The measure passed by 339 votes to 249 with 24 abstentions at a session in Strasbourg – in practice limiting future sales to emissions-free all-electric models.
Cars currently account for 12 percent of all CO2 emissions in the 27-member EU bloc, while transportation overall accounts for around a quarter.
The conservative European People's Party (EPP), the parliament's biggest group of lawmakers, had sought to push a compromise that would have diluted the proposals and allowed sales of hybrid vehicles to continue.
Their amendment was narrowly defeated while an ambitious attempt by the Greens to bring the measure deadline forward to 2030 also failed.
Conservatives were also unable to push through amendments on having a car's production-related carbon footprint taken into consideration as well – potentially allowing carmakers credits for synthetic, so-called e-fuels, made with captured carbon dioxide and hydrogen produced from renewable sources.
After the vote, EU environmental committee chair Pascal Canfin triumphantly tweeted: "100 percent zero emission cars in 2035! I strongly welcome the vote on CO2 standards in the @Europarl_EN. This position of the European Parliament is an important victory and consistent with our objective of climate neutrality."
::ECONOMY::
PM inaugurates 2-day Biotech Startup Expo-2022 at Pragati Maidan, New Delhi
Prime Minister ShriNarendraModi will inaugurate the Biotech Startup Expo – 2022 at PragatiMaidan, New Delhi on 9th June at 10:30 AM. This will be followed by his address on the occasion.
The Biotech Startup Expo – 2022  is a two day event being held on 9th and 10th June. It is being organised by the Department of Biotechnology and Biotechnology Industry Research Assistance Council (BIRAC). It is being held to mark completion of ten years of setting up of BIRAC. The theme of the Expo is 'Biotech Startup Innovations: Towards AatmaNirbhar Bharat'.
The Expo will act as a platform to connect entrepreneurs, investors, industry leaders, scientists, researchers, bio-incubators, manufacturers, regulators, government officials, etc. About 300 stalls will be set up at the Expo, which will showcase the applications of biotechnology in various fields such as healthcare, genomics, biopharma, agriculture, industrial biotechnology, waste-to-value, clean energy, among others.
::Science and tech::
What is NASA's DAVINCI Mission?
NASA's DAVINCI mission to Venus will carry a dime-sized, student-built sensor to study the planet's near-surface environment.
The DAVINCI (Deep Atmosphere Venus Investigation of Noble gasses, Chemistry, and Imaging) mission, which is slated to launch in 2029, aims to investigate Venus' atmosphere-climate system and shed new light on the scorching planet's potentially habitable past. It is the first Venus mission that will use both spacecraft flybys and a descent probe. 
The miniature sensor, called the Venus Oxygen Fugacity (VfOx) instrument, will be mounted on the outside of the spacecraft's Descent Sphere, the probe that will enter Venus' atmosphere. The sensor will be designed, built, tested and operated by students as a part of the mission's Student Collaboration Experiment, according to a statement from NASA.
The spacecraft will perform two flybys of Venus before its probe plunges through the planet's dense atmosphere about two years after launch. The probe is expected to take measurements of clouds and ultraviolet absorption on the Venusian dayside, along with measurements of heat emanating from the planet's surface on the nightside. The probe will also ingest and analyze gasses in the planet's atmosphere while capturing images of its descent to an area known as Alpha Regio, which is composed largely of rugged, mountainous terrain called tessera. 
As the probe nears Venus' surface, it will measure the partial pressure of oxygen, known as oxygen fugacity, in the planet's deep atmosphere. Scientists can then compare this information with measurements of oxygen captured in rocks on Venus' surface to better understand the planet's mountainous terrain, which has never been visited by a spacecraft, according to the statement.
::Sports::
Mithali Raj announces retirement
Mithali Raj has brought the curtain down on her storied career, announcing her decision to "retire from all forms of International Cricket" in a message on Twitter.
Raj, 39, wrote, "I feel now is the perfect time to call curtains on my playing career as the team is in the capable hands of some very talented young players and the future of Indian Cricket is bright."
Though she didn't give any concrete indicators on what her future plans were, she did say that she would stay connected with the game. "Each time I stepped on the field, I gave my very best with the intent to help India win. I will always cherish the opportunity given to me to represent the tricolour," she wrote. "It was an honour to have led the team for so many years. It definitely shaped me as a person & hopefully helped shape Indian Women's Cricket as well.
"This journey may have ended but another one beckons as I'd love to stay involved in the game I love and contribute to the growth of Women's Cricket in India and world over."
Download Monthly General Awareness PDF
Download SSC EXAMS EBOOK PDF
PRINTED Study Notes for SSC CGL Exam
Click Here for Daily Current Affairs Archive
Please let us know,
through your comments
, which PDF Notes you want. We will try our level best to provide you that study material for your preparation not for commercial use. If You want to share Your Study Material with Other Aspirants Please send Us at
sscpdfhub@gmail.com
Please share this post with the needy aspirants.
All SSCPDF Notes are available on this website for Educational purpose only. Not for commercial use.
Disclaimer
sscpdfhub.com does not own these SSCPDF books, neither created nor scanned. We only provide you the links that are already available on Internet. If anyhow, it violates the law or has anyone issue with that. Then please contact us at sscpdfhub@gmail.com For removal of links.
Contact Us in case of Copyright for Immediate Removal