Current Affairs for SSC CGL Exams – 12 June 2022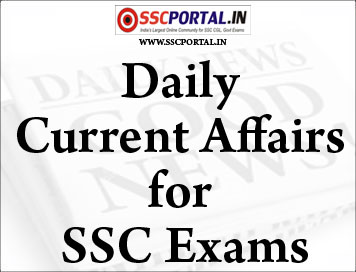 Presently you have decided to progress toward becoming SSC official and searching for the books and study materials to accomplish your objective. All things consider, you are on the correct place. Presently We are Sharing With You
Current Affairs for SSC CGL Exams - 12 June 2022.
This article which is based on
Current Affairs for SSC CGL Exams - 12 June 2022.
, a part of our most viewed notes on
www.sscpdfhub.com
, which we think our readers not supposed to miss. Readers may download the each of the notes as PDF free of cost just click on Download button. Check out latest study materials at our Website SSCPDFHUB on daily basis also you can enter your email to subscribe our website to get notification of new posts by E-mail.
Read This Also:
Read This Also:
Read This Also:

Current Affairs for SSC CGL Exams - 12 June 2022.
helps in improving your knowledge and automatically improves your marks in competitive examinations.
UPSC, IAS, IPS, IFS, PCS, UPPSC, SSC CGL, BANK, RAILWAYS, RRB NTPC, LIC AAO, Patwari, TET, BED, etc. Examinations are going to start after a few months. In these examinations, many questions are coming from different study materials provided at our website www.sscpdfhub.com. So, therefore,
Current Affairs for SSC CGL Exams - 12 June 2022.
is a important subject in all these examinations. We will provide you the PDF books and notes at our Website which include
Current Affairs for SSC CGL Exams - 12 June 2022.
. Which is helpful for all those aspirants who preparing for all these examinations at various level. Previous years questions are placed in Syllogism Questions, which has been put together in most examinations; you can download these PDF Notes simply by clicking on the Download Button at the bottom.
This post is dedicated to all the needy aspirants who want to download our SSCPDF materials, which is based on the latest exam pattern like SSC CGL, BANK, RAILWAYS, RRB NTPC, LIC AAO, etc.
Current Affairs for SSC CGL Exams - 12 June 2022.
in English helps in improving your knowledge and automatically improves your marks in competitive examinations.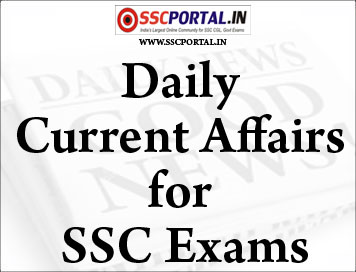 Current Affairs for SSC CGL Exams – 12 June 2022
::NATIONAL::
Uttar Pradesh Defense Industrial Corridor
Uttar Pradesh is the fourth largest state in India and the third largest economy within the country.
With a population of more than 200 million, UP has the highest number of available labour force and is one of the top five manufacturing states in India.
The state also ranks first in terms of number of MSMEs in the country and ranks 2nd in EODB.
Uttar Pradesh Defence Industrial Corridor (UP DIC)is an aspirational project that intends to reduce
foreign dependency of Indian Aerospace & Defence Sector.
::INTERNATIONAL::
UNCTAD World Investment Report released
The World Investment Report focuses on trends in foreign direct investment (FDI) worldwide, at the regional and country levels and emerging measures to improve its contribution to development.
It also provides analysis on global value chains and the operations of multinational enterprises, with special attention to their development implications.
Overviews of the report are available in all official UN languages.
Every issue of the Report has:
Analysis of the trends in FDI during the previous year, with especial emphasis on the development implications.
Ranking of the largest transnational corporations in the world.
In-depth analysis of a selected topic related to FDI.
Policy analysis and recommendations.
Statistical annex with data on FDI flows and stocks at the country level.
::ECONOMY::
PM Modi inaugurates development projects worth over Rs 3,000 crore under Gujarat GauravAbhiyan
Prime Minister NarendraModi inaugurated and laid the foundation stone of multiple development initiatives over three thousand crore rupees in Gujarat. This includes the inauguration of seven projects, foundation stone laying for 12 projects and BhumiPujan for 14 projects.
Addressing the gathering during 'Gujarat GauravAbhiyan' at Khudvel, a tribal region in Navsari, Prime Minister said, these projects will bring ease of living to Surat, Navsari, Valsad and Tapi districts of South Gujarat. He said, these projects will help in improving the water supply in the region, along with boosting connectivity and enhancing the ease of living.
MrModi said, continuous welfare and projects of development have been part of his governance style for long and these projects are aimed for the welfare of people and GaribKalyan and are way beyond any electoral consideration. He said that children of the tribal communities should get all the possible opportunities and noted their qualities of cleanliness, wisdom, organization and discipline. Education in the mother tongue, even for technical courses like medical and engineering, will open chances for OBC, tribal children, he said.
Mr. Modi said the pride of Gujarat is the rapid and inclusive development in the last two decades and a new aspiration born out of this development. The Prime Minister said in the last eight years, following the Mantra of 'SabkaSaath, SabkaVikas', his government has laid the utmost emphasis on the welfare of the poor, on providing basic facilities to the poor.
He said, the government has embarked upon the programme of 100 per cent empowerment of the poor through saturation of the welfare schemes. Mr. Modi said,  the government has succeeded in linking many new segments of people and regions with the development process and aspirations.  The Prime Minister said, lives are changing through infrastructure, education, business, connectivity related schemes in the most far-flung areas.
::Sports::
A chess knight named 'Thambi' was unveiled as the mascot of the 44th Chess Olympiad in Chennai in July-August 2022
Tamil Nadu Chief Minister MK Stalin unveiled the mascot and the logo named 'Thambi' for FIDE Chess Olympiad in Chennai last evening.  'Thambi' in Tamil means younger brother. The international event will be held at Mamallapuram near Chennai from 28th July to August 10.  Over two thousand players from 186 countries will be taking part in the event. The biggest ever contingent from India is playing in this edition.
AIR correspondent reports that Tamil Nadu Chief Minister MK Stalin has tweeted saying it is an absolute honour for Chennai to host the 44th Chess Olympiad.
The Chess Olympiad torch will soon be taken around all the states in the country before being lit in the venue on the inaugural day of the event.
Download Monthly General Awareness PDF
Download SSC EXAMS EBOOK PDF
PRINTED Study Notes for SSC CGL Exam
Click Here for Daily Current Affairs Archive
Please let us know,
through your comments
, which PDF Notes you want. We will try our level best to provide you that study material for your preparation not for commercial use. If You want to share Your Study Material with Other Aspirants Please send Us at
sscpdfhub@gmail.com
Please share this post with the needy aspirants.
All SSCPDF Notes are available on this website for Educational purpose only. Not for commercial use.
Disclaimer
sscpdfhub.com does not own these SSCPDF books, neither created nor scanned. We only provide you the links that are already available on Internet. If anyhow, it violates the law or has anyone issue with that. Then please contact us at sscpdfhub@gmail.com For removal of links.
Contact Us in case of Copyright for Immediate Removal