Current Affairs for SSC CGL Exams – 13 June 2022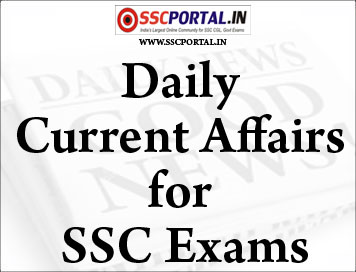 Presently you have decided to progress toward becoming SSC official and searching for the books and study materials to accomplish your objective. All things consider, you are on the correct place. Presently We are Sharing With You
Current Affairs for SSC CGL Exams - 13 June 2022.
This article which is based on
Current Affairs for SSC CGL Exams - 13 June 2022.
, a part of our most viewed notes on
www.sscpdfhub.com
, which we think our readers not supposed to miss. Readers may download the each of the notes as PDF free of cost just click on Download button. Check out latest study materials at our Website SSCPDFHUB on daily basis also you can enter your email to subscribe our website to get notification of new posts by E-mail.
Read This Also:
Read This Also:
Read This Also:

Current Affairs for SSC CGL Exams - 13 June 2022.
helps in improving your knowledge and automatically improves your marks in competitive examinations.
UPSC, IAS, IPS, IFS, PCS, UPPSC, SSC CGL, BANK, RAILWAYS, RRB NTPC, LIC AAO, Patwari, TET, BED, etc. Examinations are going to start after a few months. In these examinations, many questions are coming from different study materials provided at our website www.sscpdfhub.com. So, therefore,
Current Affairs for SSC CGL Exams - 13 June 2022.
is a important subject in all these examinations. We will provide you the PDF books and notes at our Website which include
Current Affairs for SSC CGL Exams - 13 June 2022.
. Which is helpful for all those aspirants who preparing for all these examinations at various level. Previous years questions are placed in Syllogism Questions, which has been put together in most examinations; you can download these PDF Notes simply by clicking on the Download Button at the bottom.
This post is dedicated to all the needy aspirants who want to download our SSCPDF materials, which is based on the latest exam pattern like SSC CGL, BANK, RAILWAYS, RRB NTPC, LIC AAO, etc.
Current Affairs for SSC CGL Exams - 13 June 2022.
in English helps in improving your knowledge and automatically improves your marks in competitive examinations.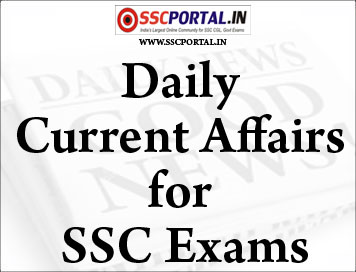 Current Affairs for SSC CGL Exams – 13 June 2022
::NATIONAL::
India's first COVID-19 vaccine 'Anokovax' launched for animals
India now has a Covid-19 vaccine to protect animals from infection. Anocovax has been developed by Haryana's ICAR-National Research Centre on Equines. The vaccine offers protection against both Delta and Omicron variants of the infection, the institute said as agriculture minister Narendra Singh Tomar launched Anocovax, the country's first indigenously developed Covid-19 vaccine for animals. The institute also launched antibody detection kits for animals.
5 things to know about Anocovax and other kits
1. The institute said the Anocovax vaccine is safe for dogs, lions, leopards, mice and rabbits.
2. The vaccine is an inactivated SARS-Cov-2 Delta (Covid-19) vaccine. It also contains Alhydrogel as an adjuvant.
3. The vaccine is effective against both Delta and Omicron variants.
4. A kit has been developed to detect the antibody in animals against SARS-CoV-2. CAN-CoV-2 ELISA kit is a sensitive and specific nucleocapsid protein-based indirect ELISA kit.
5. The antibody detection kit is made in India and a patent has been filed for it.
While initial studies were unsure about whether animals, especially pets, contract Covid or not. Studies have revealed pets can contract Covid from their owners through close contact. But there has been no evidence that humans can get Covid from the.
::INTERNATIONAL::
Kuwait to deport expats who protested amid Prophet comments row: Report
Kuwait is set to deport expatriates who took part in the demonstration at the Fahaheel area after Friday prayers over the controversial remarks against Prophet Muhammed – despite instructions. 
According to the sources cited by The Arab Times, the expats will be deported as they "violated the laws and regulations" of the country which lay down rules that sit-ins or demonstrations by expats "are not to be organized in Kuwait". 
Reportedly, the Kuwaiti authorities are in the process of "arresting" the expats and "referring them to deportation centres" in order to be deported to their countries, reported The Arab Times. Further, the deported expats will be banned from entering Kuwait again.
In response to a media query over the statement issued by the Kuwaiti Ministry of Foreign Affairs on offensive tweets in India, the spokesperson of the Embassy of India in Kuwait reportedly said: "Ambassador Sibi George had a meeting in the Foreign Office in which concerns were raised with regard to some offensive tweets by individuals in India."
Earlier, Kuwait had strongly condemned the comments on Prophet Mohammed made by former BJP spokespersons. Amid a massive outrage, a Kuwaiti supermarket had also pulled Indian products from its shelves.
::ECONOMY::
India to provide $55 mn economic support to Lanka for procuring fertilizer
With Sri Lankan famers waiting for fertiliser to start the Yala season, India has decided to extend a Line of Credit (LOC) of $55 million to Sri Lanka for the procurement of urea.
"In response to an urgent request from the Government of Sri Lanka (GOSL), an LOC agreement was signed between GOSL and the Export-Import Bank of India on Friday at Colombo in the presence of Sri Lanka Prime Minister RanilWickremesinghe, Minister of Agriculture MahindaAmaraweera, and the High Commissioner of India to Sri Lanka GopalBaglay. Senior officials from the Sri Lankan and Indian side were also present during the signing ceremony," the Indian High Commission in Colombo said in a statement.
"This LOC will help the GOSL secure urea fertiliser for the ongoing paddy sowing Yala season. In view of the critical requirement, GOSL and EXIM Bank have agreed to complete all procurement procedures expeditiously so that urea supplies can reach Sri Lanka in a short span of time.
"During the signing ceremony, Prime Minister Wickremesinghe expressed his gratitude to the Government of India for the timely assistance. The High Commissioner highlighted that the speedy finalisation of the LOC testifies the importance Government of India attaches to the welfare of the people of Sri Lanka," the statement added.
Acting on its 'Neighbourhood First' policy and as an earnest friend and partner of Sri Lanka, India has extended multi-pronged assistance to the people of Sri Lanka in the last few months.
::Science and tech::
China released the world's most detailed map of the moon
China has released a new comprehensive geologic map of the moon, the "most detailed" to date, which is expected to make a vital contribution to scientific research, exploration and landing site selection on the Earth's only natural satellite. 
Chinese scientists from multiple research institutes and universities have created the high resolution topographic map based on data from China's lunar exploration Chang'e project and other data and research findings from international organisations, the state-run China Global Television Network (CGTN) reported on Wednesday. The new comprehensive geologic map of the moon is to a scale of 1:2,500,000, the "most detailed to date", the report said.
The map includes 12,341 impact craters, 81 impact basins, 17 rock types and 14 types of structures, providing abundant information about geology of the moon and its evolution. It is expected to make a great contribution to scientific research, exploration and landing site selection on the moon.
The Institute of Geochemistry of the Chinese Academy of Sciences has led the project, along with other organisations such as Chinese Academy of Geological Science, China University of Geosciences and Shandong University.
The map was published by Science Bulletin on May 30.
::Sports::
R Pragyanand wins Norway Chess Group A Open Chess Tournament
Tournament favorite and the top seed of the event, GM Praggnanandhaa won Norway Chess Open 2022 convincingly. He scored an unbeaten 7.5/9 and finished a full point ahead of the competition. In the final round, Praggnanandhaa beat fellow countryman, IM PrraneethVuppala to win the tournament. 
He won 32000 NOK (approx. ₹2.57 lacs) cash as his prize. The 16-year-old performed at 2676 and gained 6.4 Elo rating points. 
Prraneeth was the only other Indian taking part in this event. He scored 6/9, secured sixth place and earned 3000 NOK (approx. ₹24158). Check out Praggnanandhaa's games from the event. Photo: LennartOotes/Norway Chess
Download Monthly General Awareness PDF
Download SSC EXAMS EBOOK PDF
PRINTED Study Notes for SSC CGL Exam
Click Here for Daily Current Affairs Archive
Please let us know,
through your comments
, which PDF Notes you want. We will try our level best to provide you that study material for your preparation not for commercial use. If You want to share Your Study Material with Other Aspirants Please send Us at
sscpdfhub@gmail.com
Please share this post with the needy aspirants.
All SSCPDF Notes are available on this website for Educational purpose only. Not for commercial use.
Disclaimer
sscpdfhub.com does not own these SSCPDF books, neither created nor scanned. We only provide you the links that are already available on Internet. If anyhow, it violates the law or has anyone issue with that. Then please contact us at sscpdfhub@gmail.com For removal of links.
Contact Us in case of Copyright for Immediate Removal