Current Affairs for SSC CGL Exams – 21 July 2022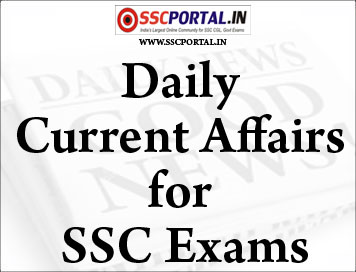 Presently you have decided to progress toward becoming SSC official and searching for the books and study materials to accomplish your objective. All things consider, you are on the correct place. Presently We are Sharing With You
Current Affairs for SSC CGL Exams - 21 July 2022.
This article which is based on
Current Affairs for SSC CGL Exams - 21 July 2022.
, a part of our most viewed notes on
www.sscpdfhub.com
, which we think our readers not supposed to miss. Readers may download the each of the notes as PDF free of cost just click on Download button. Check out latest study materials at our Website SSCPDFHUB on daily basis also you can enter your email to subscribe our website to get notification of new posts by E-mail.
Read This Also:
Read This Also:
Read This Also:

Current Affairs for SSC CGL Exams - 21 July 2022.
helps in improving your knowledge and automatically improves your marks in competitive examinations.
UPSC, IAS, IPS, IFS, PCS, UPPSC, SSC CGL, BANK, RAILWAYS, RRB NTPC, LIC AAO, Patwari, TET, BED, etc. Examinations are going to start after a few months. In these examinations, many questions are coming from different study materials provided at our website www.sscpdfhub.com. So, therefore,
Current Affairs for SSC CGL Exams - 21 July 2022.
is a important subject in all these examinations. We will provide you the PDF books and notes at our Website which include
Current Affairs for SSC CGL Exams - 21 July 2022.
. Which is helpful for all those aspirants who preparing for all these examinations at various level. Previous years questions are placed in Syllogism Questions, which has been put together in most examinations; you can download these PDF Notes simply by clicking on the Download Button at the bottom.
This post is dedicated to all the needy aspirants who want to download our SSCPDF materials, which is based on the latest exam pattern like SSC CGL, BANK, RAILWAYS, RRB NTPC, LIC AAO, etc.
Current Affairs for SSC CGL Exams - 21 July 2022.
in English helps in improving your knowledge and automatically improves your marks in competitive examinations.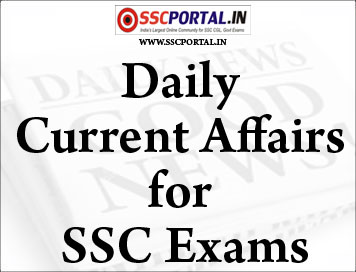 Current Affairs for SSC CGL Exams – 21 July 2022
::NATIONAL::
Taiwan semiconductor makers to visit India to discuss cooperation
Taiwan will send a high-profile delegation of semiconductor manufacturers to India to take forward cooperation in the crucial sector, including possible collaboration under New Delhi's programme of production linked incentives (PLI) for large-scale electronics manufacturing.
The visit by the Taiwanese delegation will be a follow-up to two visits from the Indian side and several meetings held since last year to discuss collaboration in making the chips required for electronics items, communications devices, health care systems, and motor vehicles, people familiar with the matter said.
"The delegation is expected to include representatives of top semiconductor manufacturers, including Taiwan Semiconductor Manufacturing Company (TSMC) and United Microelectronics Corporation (UMC)," one of the people cited above said.
The exact dates for the delegation's visit are yet to be finalised, though it is expected to be in India in the coming weeks.
The visit will allow Taiwanese manufacturers to find out more about the Indian government's semiconductor mission, announced last December, which envisages PLIs worth ₹76,000 crore or around $10 billion for the entire supply chain, including electronic components, subassemblies and finished goods, a second person said.
India and Taiwan had earlier held talks that linked a free trade agreement to the creation of a semiconductor manufacturing hub in the country. Last year, the two sides set up four groups that focused on creating a semiconductor hub, training of the highly specialised manpower needed for the industry, a bilateral investment agreement, and a free trade agreement.
Following the unveiling of the Indian government's semiconductor mission with PLIs, the two sides have been looking at the issue afresh, the people said. The Indian side has identified possible locations for manufacturing units with adequate land, semiconductor-grade water and high quality power supply. India will also provide fiscal support of up to 50% for projects under its scheme for setting up semiconductor and display fabrication units.
"Some successful efforts have been made in the past in this direction. A high-level Indian delegation attended the India-Taiwan SME Development Forum at Taipei in November 2018," the official said.
"Taiwanese firms are welcomed in India for both investments and technology transfers in sectors such as electronics, auto components and automobiles. Indian MSMEs can benefit from Taiwanese expertise in the bamboo sector. They can also contribute to India's semiconductor sector," the official added.
India and Taiwan established representative offices in each other's capitals in 1995. A second Taipei Economic and Cultural Center was established in Chennai in 2012. Taiwan is India's 16th largest trading partner and annual bilateral trade is worth about $7 billion.
::INTERNATIONAL::
Women, minorities worst hit since Taliban takeover of Afghanistan: UN report
The United Nations mission in Afghanistan (UNAMA) on Wednesday released a report on the human rights situation in the country that was retaken by the Taliban more than 10 months ago.
The report summarised the UNAMA's findings with regards to protection of civilians, extrajudicial killings, torture and ill-treatment, arbitrary arrests and detentions, rights of women and girls, fundamental freedoms and situation in places of detention. It also contained recommendations for both de facto authorities and the international community.
It further stated that despite significant reduction in armed violence between mid-August 2021 and mid-June 2022, 2,106 civilian casualties – 700 deaths, 1,406 injuries – were recorded. Majority civilian casualties were attributed to targeted attacks by the ISKP (Islamic State – Khorasan Province) against minority communities in places of worship.
The report said that monitoring found that despite the improved security situation since 15 August, the people of Afghanistan, in particular women and girls, are deprived of the "full enjoyment of their human rights".
Here are some of the key findings for the period between August 15, 2021 to June 15, 2022:
2,106 civilian casualties (700 killed, 1,406 wounded) predominantly caused by improvised explosive device (IED) attacks attributed to ISIL-KP and unexploded ordnance (UXO).
160 extrajudicial killings, 178 arbitrary arrests and detentions, 23 instances of incommunicado detention and 56 instances of torture and ill-treatment of former ANDSF (Afghan National Defense and Security Forces) and government officials carried out by the de facto authorities.
59 extrajudicial killings, 22 arbitrary arrests and detentions and seven incidents of torture and ill-treatment by the de facto authorities of individuals accused of affiliation with ISKP.
18 extrajudicial killings, 54 instances of torture and ill-treatment and 113 instances of arbitrary arrest and detention and 23 cases of incommunicado detention of individuals accused of affiliation with self-identified "National Resistance Front".
217 instances of cruel, inhuman and degrading punishments carried out by the de facto authorities since August 15, 2021
118 instances of excessive use of force by the de facto authorities between August 15, 2021, and June 15, 2022.
Human rights violations affected 173 journalists and media workers, 163 of which were attributed to the de facto authorities. Among these were 122 instances of arbitrary arrest and detention, 58 instances of ill-treatment, 33 instances of threats and intimidation and 12 instances of incommunicado detention.Six journalists were also killed during the period (five by ISKP, one by unknown perpetrators).
Human rights violations affected 65 human rights defenders, 64 of which were attributed to the de facto authorities. Among these were 47 arbitrary arrests, 17 cases of in communicado detention, 10 cases of ill-treatment and 17 cases of threats and intimidation.
::ECONOMY::
NITI Aayog moots licensing, regulatory framework for digital banks
The Centre's policy think-tank NITI Aayog has made a case for setting up digital banks, which would accept deposits and advance loans through digital means, and suggested a licensing and regulatory framework for such lenders.
A digital bank would be a bank defined in the Banking Regulation Act, 1949, and shall have its own balance sheet and legal existence. Such a bank would be different from the 75 Digital Banking Units (DBUs) — announced by Finance Minister Nirmala Sitharaman in Union Budget 2022-23 — which are being set up to push digital payments, banking and fintech innovations in underserved areas.
The success India has witnessed on the payments front is yet to be replicated in meeting the credit needs of its micro, small and medium businesses, said a NITI Aayog report titled 'A proposal for Digital Banks in India: Licensing and Regulatory Regime'. "The current credit gap and the business and policy constraints reveal a need for leveraging technology effectively to cater to these needs and bring the underserved further within the formal financial fold," the report said.
Banks and fintech businesses that offer digital banking services rely primarily on digital channels that organically have high-efficiency metrics relative to incumbent commercial banks, the report said. This structural feature makes them a potentially effective channel through which policymakers can achieve social goals like empowering the under-banked small businesses, and enhancing trust among retail consumers, the think tank said.
The report said existing partnership-based neo-bank models face several challenges, such as revenue generation and viability. They have limited revenue potential, high cost of capital, and offer products of only partner banks.
Making a case for digital banks, the NITI Aayog said initially "restricted" licences should be issued for such banks to applicants. The restricted nature of the licence would limit the volumes and value of customers serviced. The applicant would then be required to commence operations as a digital business bank/digital consumer bank in a regulatory sandbox. A full-scale licence would be issued based on satisfactory performance in the sandbox.
The report states that the applicant for a licence may require one or more controlling persons to have an established track record in e-commerce, payments, or technology space. Applicants may have the option to apply in the form of a consortium. Existing neo-banks seeking to upgrade or small finance banks that see the opportunity in digital business bank licence are potential eligible candidates. Fintech businesses may also be allowed to procure such a licence, the report said.
The report by the NITI Aayog states that while the RBI has the authority to issue a licence to a banking company under Section 22 of the Banking Regulation Act, an additional step is needed for creating a licensing regime for digital business banks and digital consumer banks that permits them to offer value-added-services that are complementary to their core financial business, on the same balance sheet as banking services.
The Centre will have to notify that a non-financial business is complementary to the core financial business of digital business banks/digital consumer banks as an additional line of business they can engage in. The Centre, in consultation with the RBI, may create a permissible list of NFBs for digital business banks and digital consumer banks, respectively, and a list of non-permissible NFBs to ensure prudential decorum.
::Sports::
Neeraj Chopra headlines 37-member Indian team selected for CWG 2022
Tokyo Olympics gold medallist Neeraj Chopra headlined the 37-member squad named by the Athletics Federation of India (AFI) on Thursday to compete in the Commonwealth Games 2022 in Birmingham from July 28 to August 8 this year.
AFI president Adille Sumariwalla expressed confidence that the squad would deliver quality performances. 
The squad includes three men Javelin Throwers in Neeraj Chopra, DP Manu and Rohit Yadav and three Triple Jumpers in Abdulla Aboobacker, Praveen Chithravel and Eldhose Paul. 
"We are requesting the Indian Olympic Association to increase our quota by one and to assist in securing accreditation for a couple of athletes. We have also selected a few subject to their proving their fitness and form before the Games," Sumariwalla said. 
"Shot Puttter Tajinderpal Singh Toor will have to perform well in Kazakhstan while Amoj Jacob has been selected subject to his recovery and fitness level," the AFI President said.
The team: 
Men: Avinash Sable (3000m Steeplechase); Nitender Rawat (Marathon); M Sreeshankar and Muhammed Anees Yahiya (Long Jump); Abdulla Aboobacker, Praveen Chithravel and Eldhose Paul (Triple Jump); Tajinderpal Singh Toor (Shot Put); Neeraj Chopra, DP Manu and Rohit Yadav (Javelin Throw); Sandeep Kumar and Amit Khatri (Race Walking); Amoj Jacob, Noah Nirmal Tom, Arokia Rajiv, Muhammed Ajmal, Naganathan Pandi and Rajesh Ramesh (4x400m Relay). 
Women: S Dhanalakshmi (100m and 4x100m relay); Jyothi Yarraji (100mHurdles); Aishwarya B (Long Jump and Triple Jump) and Ancy Sojan (Long Jump); Manpreet Kaur (Shot Put); Navjeet Kaur Dhilllon and Seema Antil Punia (Discus Throw); Annu Rani and Shilpa Rani (Javelin Throw); Manju Bala Singh and Sarita Romit Singh (Hammer Throw); Bhawna Jat and Priyanka Goswami (Race Walking); Hima Das, Dutee Chand, Srabani Nanda, MV Jilna and NS Simi (4x100m relay).—IANS inj
Download Monthly General Awareness PDF
Download SSC EXAMS EBOOK PDF
PRINTED Study Notes for SSC CGL Exam
Click Here for Daily Current Affairs Archive
Please let us know,
through your comments
, which PDF Notes you want. We will try our level best to provide you that study material for your preparation not for commercial use. If You want to share Your Study Material with Other Aspirants Please send Us at
sscpdfhub@gmail.com
Please share this post with the needy aspirants.
All SSCPDF Notes are available on this website for Educational purpose only. Not for commercial use.
Disclaimer
sscpdfhub.com does not own these SSCPDF books, neither created nor scanned. We only provide you the links that are already available on Internet. If anyhow, it violates the law or has anyone issue with that. Then please contact us at sscpdfhub@gmail.com For removal of links.
Contact Us in case of Copyright for Immediate Removal