Current Affairs for SSC CGL Exams – 23 July 2022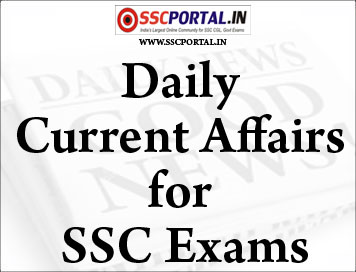 Presently you have decided to progress toward becoming SSC official and searching for the books and study materials to accomplish your objective. All things consider, you are on the correct place. Presently We are Sharing With You
Current Affairs for SSC CGL Exams - 23 July 2022.
This article which is based on
Current Affairs for SSC CGL Exams - 23 July 2022.
, a part of our most viewed notes on
www.sscpdfhub.com
, which we think our readers not supposed to miss. Readers may download the each of the notes as PDF free of cost just click on Download button. Check out latest study materials at our Website SSCPDFHUB on daily basis also you can enter your email to subscribe our website to get notification of new posts by E-mail.
Read This Also:
Read This Also:
Read This Also:

Current Affairs for SSC CGL Exams - 23 July 2022.
helps in improving your knowledge and automatically improves your marks in competitive examinations.
UPSC, IAS, IPS, IFS, PCS, UPPSC, SSC CGL, BANK, RAILWAYS, RRB NTPC, LIC AAO, Patwari, TET, BED, etc. Examinations are going to start after a few months. In these examinations, many questions are coming from different study materials provided at our website www.sscpdfhub.com. So, therefore,
Current Affairs for SSC CGL Exams - 23 July 2022.
is a important subject in all these examinations. We will provide you the PDF books and notes at our Website which include
Current Affairs for SSC CGL Exams - 23 July 2022.
. Which is helpful for all those aspirants who preparing for all these examinations at various level. Previous years questions are placed in Syllogism Questions, which has been put together in most examinations; you can download these PDF Notes simply by clicking on the Download Button at the bottom.
This post is dedicated to all the needy aspirants who want to download our SSCPDF materials, which is based on the latest exam pattern like SSC CGL, BANK, RAILWAYS, RRB NTPC, LIC AAO, etc.
Current Affairs for SSC CGL Exams - 23 July 2022.
in English helps in improving your knowledge and automatically improves your marks in competitive examinations.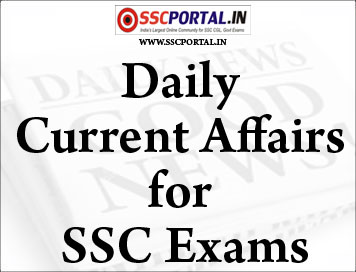 Current Affairs for SSC CGL Exams – 23 July 2022
::NATIONAL::
Karnataka cabinet clears new employment policy, aims to increase jobs
The Karnataka cabinet on Friday gave its approval to the 'Karnataka Employment Policy 2022-25', mandating industries either expanding or setting up new units in the state, to increase the number of jobs they provide.
The policy cleared by the cabinet chaired by chief minister Basavaraj Bommai is aimed at generating more employment in the state, especially to locals, with job opportunities dwindling.
"There were specific guidelines on how various units should provide employment. Under the new policy, we have said that the number of jobs should be increased and locals should be employed. We have categorised industries," law and parliamentary affairs minister JC Madhuswamy said.
Speaking to reporters after the cabinet meeting, he said, for instance, if an industry is classified as medium scale, where the minimum employment is 20, on an agreement to create seven more jobs, the policy allows an additional investment of up to ₹10 crore.
"Similarly, if a unit plans on increasing working capital by ₹50 crore, it has to create a minimum of 30-50 jobs, and for increasing investment up to ₹100 crore, minimum 35 additional jobs should be created for locals," he added.
"Similarly for ultra mega units, which were earlier required to create a minimum of 400 jobs, will now have to generate 510. For mega units, it has been increased from 200 to 260 employees," he said adding that the minimum job requirement of large scale industry will now be 60 from 50 earlier, and for a medium-scale industry it is now 20 from 10-15 earlier.
Stating that the industries' classifications have been made based on investments, the minister said, if the companies have to invest additionally, they will have to create extra jobs based on the criteria explained in the policy.
It has also decided to amend the guidelines for the release of inmates serving life imprisonment at various prisons across the state ahead of schedule.
"It has been decided to leave those convicted under POCSO Act and multiple murder cases from the catagory," Madhuswamy said.
The cabinet also reiterated its stand that the recommendations of the Kasturirangan Committee on eco-sensitive areas (ESAs) of the Western Ghats cannot be implemented and the state's opposition to it.
Pointing out that the state has expressed its reservation against the report twice in the past, the minister said, "…the state government cannot accept the report and allow eviction of those living in the region. Our stand will be conveyed to the Union government…the CM takes a delegation to Delhi in the next few days." Among the other decisions taken are to acquire 240 acres of land to develop the Mysuru airport.
::INTERNATIONAL::
Sheikh Mohammed Sabah Al Salem appointed as new Prime Minister of Kuwait
Sheikh Mohammed Sabah was born in 1955 and is the fourth son of the 12th Emir of Kuwait, Sheikh Sabah Al Salem Al Sabah, who ruled Kuwait from 1965 until 1977.
He holds a Bachelor's degree in Economics from Claremont College in California, and a PhD in Economics and Middle Eastern Studies from Harvard University.
Sheikh Al-Salem held a number of positions; most notably, as a teaching assistant, and a member of a mission in the Economics Department at the College of Commerce, Economics and Political Science at Kuwait University, for 6 years, extending from 1979 until 1985.
In 1985, he was appointed as a professor in the Department of Economics at the same college, and in 1987 he was assigned to the Kuwait Institute for scientific research for a year.
Sheikh Mohammed also held several positions since the early nineties of the last century; In 1993, he was appointed Kuwait's ambassador to the United States of America, and he continued in this position until the beginning of 2001 when he was appointed Minister of State for Foreign Affairs.
In 2003, he served as Minister of Foreign Affairs and Acting Minister of Social Affairs and Labor.
At the beginning of 2006, he was appointed Deputy Prime Minister and Minister of Foreign Affairs, and after only 4 months, he was reappointed to the same positions. He also held the same positions in the 2007, 2008, and 2009 ministerial reshuffles, in addition to occupying the acting Ministry of Oil.
In 2011, Sheikh Mohammed submitted his resignation from his position as Minister of Foreign Affairs, against the backdrop of a million-dollar deposit issue that was raised at the time, and it was said that government officials and representatives were involved in it.
::ECONOMY::
Centre considering extension of PMAY-Urban Mission up to March 2024
The extension of government's flagship urban housing scheme, Prime Minister Awas Yojana (PMAY) Urban up to March 2024 is under consideration by the Ministry of Housing.
In a written reply in Lok Sabha , Minister of State for Housing and Urban Affairs, Kaushal Kishore said: "A proposal seeking extension of the Mission up to March 2024, to complete all houses sanctioned under the scheme up to March 31, 2022 without changing the funding pattern and implementation methodology, is under consideration. Meanwhile, an interim extension of 6 months for all verticals except Credit Linked Subsidy Scheme has been granted."
The Ministry of Housing and Urban Affairs is implementing PMAY – Urban (PMAY-U) – 'Housing for All' Mission, since June 25, 2015 for giving Central assistance to States and Union Territories (UTs) for providing all-weather 'pucca' houses to all eligible urban beneficiaries.
Based on the project proposals submitted by States/ UTs, a total of 122.69 lakh houses have been sanctioned during the Mission period till 31March 2022.
Against the sanctioned houses, 101.94 lakh have been grounded for construction; of which 61.15 lakh are completed or delivered to beneficiaries.
Central assistance of Rs 2,03,427 crore has been approved; out of which Rs 1,20,130 crore has been released.
::Sports::
Los Angeles to host the 2028 Summer Olympic Games
Discover how the Los Angeles Candidature Committee describes their vision for the Games and the legacy they plan to leave behind:
For centuries, people have been following the sun to California – to a coastal paradise of beautiful weather, inspiring landscapes and an ocean of possibilities. Since it was first settled, LA – the City of Angels – has built a culture of progress by harnessing creativity and imagination for reinvention. Today, LA28 is inviting the world to follow the sun on a journey of sport and innovation destined to help transform the Games to:
Deliver the ultimate personalised experience for the Athletes
Maximise our existing sports infrastructure to ensure a sustainable long-term legacy
Produce a fresh blend of sport and entertainment to help refresh the Olympic brand worldwide and capture the imagination of youth
Reignite America's passion for the Olympic Movement for generations to come
Embrace the principles of Olympic Agenda 2020 through fiscally prudent Games that deliver enduring benefits to the host city and the Olympic Movement.
Download Monthly General Awareness PDF
Download SSC EXAMS EBOOK PDF
PRINTED Study Notes for SSC CGL Exam
Click Here for Daily Current Affairs Archive
Please let us know,
through your comments
, which PDF Notes you want. We will try our level best to provide you that study material for your preparation not for commercial use. If You want to share Your Study Material with Other Aspirants Please send Us at
sscpdfhub@gmail.com
Please share this post with the needy aspirants.
All SSCPDF Notes are available on this website for Educational purpose only. Not for commercial use.
Disclaimer
sscpdfhub.com does not own these SSCPDF books, neither created nor scanned. We only provide you the links that are already available on Internet. If anyhow, it violates the law or has anyone issue with that. Then please contact us at sscpdfhub@gmail.com For removal of links.
Contact Us in case of Copyright for Immediate Removal